Mabon
Na podzimní rovnodennost (Mabon, Dožínky) se v pohanských tradicích zapomíná jako na nedůležitý svátek. Je pravda, že při něm nedochází k žádnému významnému dramatu. Jeho význam ale není radno podceňovat. Zanedbávání tohoto svátku je zřejmě dáno spíše nepochopením jeho symboliky než jeho opravdovou bezvýznamností.
Rovnodennost je den, kdy světlo a tma trvají stejný počet hodin a jsou tedy na moment v dokonalé rovnováze. Na Mabon se ocitáme v posledních okamžicích vlády světla a slunce a na prahu začínajícího období tmy. Jedinečnou sílu tohoto dne můžeme využít velmi dobře ve svůj prospěch, ať už chceme posílit svoje kouzla, nebo se zaměřit na rekapitulaci svého úsilí.
Poznámka autorky: Tento článek jsem sestavila záměrně obecně, aby poskytl inspiraci, nikoli jednotný návod. Měl by popsat spíš základní myšlenku Mabonu v konceptu Kola roku, které považuji za jeden z nejrozšířenějších konceptů napříč pohanskými tradicemi, který znám. Většina pohanů v mém okolí skutečně slaví osm velkých svátků, ať už se počítají mezi eklektiky, rekonstrukcionalisty, wiccany nebo jiné. Mnoho těchto tradic už si vytvořilo vlastní systémy a mytologie oslav těchto svátků, většinou jsou to ale postupy přístupné jen pro členy daných skupin. Pak tu jsou ale i další, kteří mají samostatnou stezku, nebo se zatím nevyhranili. Tento článek by měl být inspirací pro všechny.
Mnozí věří, že síla osmi velkých svátků, zvláště těch spojených s cykly slunce, jako jsou rovnodennosti, spočívá také v astronomické rovině. Noční obloha byla vždy zdrojem velkého hledání. Dvakrát do roka se Slunce na malou chvíli ocitne nad rovníkem planety Země a odměří tak přesně polovinou oběhu Země na její oběžné dráze. Nyní Země nastoupí svou cestu po vzdálenější části elipsy, po které obíhá, a na nás čekají studenější týdny.
Tento jev je známý jako rovnodennost nebo také začátek astronomického jara a podzimu.
Mabon je často v literatuře označovaný jako svátek poslední sklizně. Je to čas, kdy Země vydává své plody, které tolik měsíců uzrávaly. Není náhodou, že v tuto dobu začíná období Váh – astrologického znamení rovnováhy. Převažování je skutečně hlavní otázkou měsíce. Znamená to zastavit se, ohlédnout se za sebe a dobře porovnat práci, kterou jsme za sebou zanechali, a zhodnotit, zda jsme svůj čas využili kvalitně.
Je to také čas tolik opomíjeného odpočinku. Pracovali jsme dlouho a tvrdě a musíme myslet i na sebe, na svoje tělo a ducha. Je načase setřít pot z čela, usadit se na slunce v jednom z posledních teplých dnů, dát nohy na stůl a moštem připít své vlastní vytrvalosti. Nyní je dobrá doba zakusit plody vlastní práce. Ať už jsou sladké nebo trpké, dopřát zasloužený relax tělu a udělat pro sebe něco příjemného, to jsou věci, které (ruku na srdce) až moc často opomíjíme. Dovolme si luxus vybočit ze svých zajetých kolejí, být chvíli trochu sluníčkoví a nabrat sil. Přichází zima a budeme je potřebovat.
Rituál i festival: způsoby oslavy
Na oslavách rovnodennosti je také výborné, že si v ten den můžeme vybrat z mnoha způsobů, jak je oslavit. Někteří se zaměří na uplynulé období léta a rozhodnou se zabalit svůj obřad do kabátu vděčnosti za dary, které jsme během té doby dostali; za hojnost jídla, pití a dobré společnosti; díky za sklizeň, příležitosti, nebo dobrodružství; vzdání poct matce Zemi; oslavy a radování.
Jiní oproti tomu mohou uvítat příchod tmy a lekcí, které přináší, a zvolí vychutnání prastařejších pudů člověka, meditaci a instrospekci; vítání období, kdy se můžeme ponořit hlouběji sami do sebe a poznat své nejskrytější stránky; setkání s předky a lidmi dávno mrtvými; poznávání děsivých stránek života, strachů a věcí, které si nepřejeme vidět, boj s nimi nám ale dodává druh síly, kterou jen těžko lze nahradit něčím jiným. Můžeme se poklonit zimě a prosit, abychom ji opět přežili ve zdraví, nebo připít slunci a nedočkavě čekat na jeho návrat za půl roku.
Oboje je rovnou mírou zastoupeno v Mabonu.
Rituání oslavy se tradičně soustředí buď na aspekt druhé sklizně, nebo na rovnováhu světla a tmy, života a smrti, muže a ženy. Oltářní výzdoba se nejčastěji odvozuje od tématu sklizně, Mabon tedy může být vnímaný i jako svátek primárně zemědělský. Pole a rostliny na nich zasazené umírají, zatímco vydávají člověku své plody, a tyto plody nesou hlavní poselství podzimní rovnodennosti a také symboliku života a smrti. Často se objevuje kukuřičný klas, jablka, hrozny, dýně, ořechy, obilí, ovšem i zelenina, další stromové ovoce, podzimní květiny a samozřejmě také produkty, které z těchto surovin vyrábíme; víno, pálenky, chleby, koláče,… dále se používají nástroje sklizně, z nichž se pro současného pohana nejrozuměji jeví srp a košík.
Zajímavostí je, že i když je Mabon označovaný jako poslední festival sklizně, sklizeň samotná pokračuje v podstatě až do Samhainu, kdy se vlády na poli definitivně ujímá mráz. V některých částech světa je proto oslava poslední sklizně spojená se Samhainem. Odtud tedy pochází spojitost amerického Halloweenu s dýněmi, které jsou také symbolem Mabonu.
Barvy Mabonu jsou typickými barvami podzimu: žlutá, oranžová, červená a hnědá, barvy padajícího listí.
Na co zaměřit své síly při mabonových oslavách?
Může to být samozřejmě rovnováha a harmonie v životě, které se vám v poslední době nedostávalo, například i v podobě rovnocennosti mužské a ženské role, a to jak ve vnějším světě, tak i uvnitř svého temperamentu.
Může to být doba rekapitulace a zodpovězení si na pár základních otázek, na které sem tam zapomínáme. Mám všeho dostatek? Pokud ne, co mi chybí? Pokud ano, vážím si toho? Toto je dobrý čas spočítat všechna pozitiva a negativa ve svém životě a rozhodnout se, jestli jsem s tím spokojený. A pokud ne, zjistit, co můžu udělat, aby se věc zlepšila.
Může to být uzavírání záležitosti, která nám dlouho leží v hlavě. Složme všechny účty a požádejme síly Mabonu o vyrovnání. Konstruktivnost a destruktivita jsou momentálně na stejné lodi, takže je jen na nás, kterou z nich zvolíme.
Můžeme se zaměřit i na sdílení s ostatními, například dobrý čas projevit vděk příteli za jeho podporu tím, že ho pozveme na dobré jídlo vlastní výroby.
Zaměřit se lze na relaxaci. Nejlépe se baterky dobíjejí samozřejmě v přírodě. Vyrazit na výlet a odreagovat se od každodennosti civilizace se může ukázat i jako výborný způsob, jak se spojit se svými cykly. Tam venku navíc rostou houby, kukuřice a různé plané ovoce, ze kterého se dá vyrobit úžasná spousta delikates (nebo tematická výzdoba). Babička nebo máma určitě má nějaké recepty.
Když už za nimi půjdete, věnujte nějaký čas i tématům domácího krbu a předkům, protože i to jsou věci, které podzim přináší do povědomí. Určitě nebude na škodu projít svůj domov s nějakým očišťujícím vykuřovadlem, vyhodit pár starých a nepotřebných věcí a udělat si trochu pořádek. V zimě budeme většinou zavření uvnitř, ať tam tedy raději nestraší kostlivci.
Pro skupiny se doporučuje jakékoli cvičení na zvyšování energie nebo témata archetypálních příběhů.
Pokloňte se temnotě
Mabon je v některých směrech chápaný jako svátek Stařeny a jako takovému mu přísluší také aspekty života, které nepovažujeme za příjemné, esteticky lahodící nebo správné. Ať už pro nás má temná strana větší nebo menší význam, je neoddělitelnou součástí života a jednou za čas bychom jí měli čelit. Nenechte se ale ošálit. V tomto případě nelze podvádět. Cesty do podsvětí, jakkoli pravidelné, jsou jen jedním aspektem této strany mince, a není radno někdy uvěřit tomu, že toto téma můžete s klidem přeskočit. Otázkami tohoto období jsou tedy také takové: Co je mi nepříjemné? Před čím zavírám oči? Z čeho mám strach?
A konečně, nejpříjemnějším způsobem, jak oslavit Mabon, je zřejmě udělat to v náručí boha Dionýsa. Mabon je proslaveným svátkem vína, které v této době dozrává, a nejinak je tomu s jablky, která v našich zemích přece jen mají delší tradici. Mošt, štrúdl, víno, buchty, křížaly a rozinky – z obou druhů ovoce se dá sestavit hotová hostina; přejeme tedy, ať se vydaří, a nechť jsou vám bohové přes zimu nakloněni.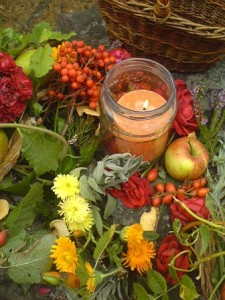 335 komentářů k "Mabon"