Zahraniční vlogeři 1.
V českých končinách jsou vlogy o čarodějnictví, pohanství a magii relativně novou věcí, ale v zahraničí už pěkných pár let běží a další a další se objevují jako houby po dešti. Pohani různých cest se v krátkých video příspěvcích svěřují se svými zážitky, poznatky z praxe, recenzemi na knihy… a tak různě. Čarodějnické YouTube kanály jsou typické tím, že sledují spíš osobní cestu autora, než určitou linii pohanství. Setkáte se tak se spoustou informací, které se můžou i hodně různit kvalitou. V dobrém vlogu můžete narazit na ohromnou dávku inspirace, ať už jste začátečník, nebo pohan železem kovaný.
Pár členů týmu nám dalo tipy na vlogery, které rádi odebírají. První seznam dala dohromady Coreyemmah, která čarodějnické vlogerství přinesla do České republiky.
Corey odebírá
Poznámka autorky: "Rozhodla jsem se s vámi podělit o několik kanálů, které odebírám, ve kterých nacházím inspiraci pro svoji cestu a které by mohly oslovit i vás. Mým zaměřením je čarodějnictví odkazující na germánský seidr, kladu důraz na kreativitu a spokojenost v každodenním životě. Kanály, které zde popisuji, mohou ale informačně obohatit i čaroděje a pohany mnoha dalších směrů."
1. Tip Toe Chick: Your Favorite "REAL" Witchie!!!
Jedna z prvních čarodějnických vlogerek, možná dokonce první čarodějnická vlogerka vůbec, natáčí svá videa od konce roku 2006. Žije v prostorném domě s manželem, velkým psem a dítětem. Jak sama píše ve svém YouTube medailonku, stala se čarodějnicí přirozeně.
Zaměřuje se především na zpracování a využití bylin pro běžné i magické upotřebení. Kromě toho natočila mnoho videí o práci na sobě a sebelásce a můžete u ní najít i videa s vyjádřením různých emocí v jejím životě, které nejsou vždy kladné. V některých videích spolupracuje s další americkou vlogerkou, Pyperh. Praktikuje hlavně Wiccu, ale pravděpodobně není tradičně zasvěcená.
Jejích videí je opravdu mnoho a můžete z nich načerpat spoustu inspirace a dozvědět se o základech čarodějnické praxe, např. o magické pyramidě nebo o stavění posvátného kruhu. Její projev je příjemný, mluví srozumitelně, s láskou a za poměrně dobrých akustických podmínek. Její videa většinou nejsou nijak dodatečně upravovaná, v poslední době točí především pomocí své web kamery. Jakožto energická žena se při natáčení neustále vrtí. Kromě vlogů má stránku The Green Eyed Owl, kde radí ohledně bylinek a duchovního osvícení.
Video Karma: *****
(obrázek z úvodního videa TipToe na YouTube)
2. Charming Pixie Flora
Flora Peterson je čarodějnicí, jejíž videa jsou nabitá pozitivní energií. Učí v nich především o základech čarodějnické praxe a o práci na sobě, jelikož její snahou je, aby se její diváci stali šťastnými bytostmi. Žije se svým skoro dospělým synem, který má v sobě stejnou dávku ztřeštěného elánu jako ona.
Za zmínku stojí její projekt Monday Minute of Magick, který vysílala přibližně před rokem a ve kterém pozitivně motivuje své diváky v krátkých dílech např. o magickém využití obyčejné propisky.
Její okruh témat je poměrně široký, ukazuje mj. jak si vyrobit magické zrcadlo, jak vnímat energetickou proměnu těla při tetování nebo jak přidělit živly světovým stranám dle intuice namísto obvyklého pojetí. Točí od roku 2009 a její současná videa jsou, pokud vím, přístupná pouze žákům její placené školy seberozvoje, ale pokud se podíváte do minulosti, určitě vás i tak bude dobře inspirovat, motivovat a bavit. K divákovi mluví hlasitě, srozumitelně a neustále se usmívá.
Video Karma: ****
(obrázek ze záhlaví Florina YouTube kanálu)
3. Laura Daligan
Rudovlasá potetovaná umělkyně, jejíž malířská díla se dostala mj. do britského časopisu Mezinárodní Pohanské federace Pagan Dawn, představila na YouTube svůj seriál s názvem Witchcraft Diaries již v roce 2007. Tehdy se pravděpodobně jmenoval Witch in the City.
Natáčí videa z přírody, o své duchovní cestě a o čarodějnictví obecně. Její hlavní zaměření byla v loňském roce videa o jednotlivých stromech a jejich magických významech. Tato videa natáčela přímo v přírodě pod uváděnými stromy. V současnosti točí se svojí kamarádkou Zoe Hind sabatový seriál nazvaný The Witches Zodiac a také velmi zajímavé díly o zvířecích totemech v sérii Totem Tuesday. Kromě toho zbožňuje víly, o nichž u ní můžete najít také spoustu dílů.
V počátcích svého natáčení se, podobně jako mnozí další čarodějničtí vlogeři, zabývala základy čarodějnické praxe. Její projev je klidný a milý, pro některé diváky možná občas až moc pomalý a jednotvárný.
Video Karma: **
(obrázek z YouTube, jedno z videí Laury)
4. Pagan Perspective
Projekt Pagan Perspective funguje na YouTube jako dotazový kanál, který přijímá otázky od čarodějů ze všech koutů světa. Následně jeho tvůrci věnují týden zpracování daného dotazu ve svých videích. Kanál existuje od roku 2009.
V současnosti se můžeme setkat s Ericem, Carou, Dancing Rabbitem a mnoha dalšími, kteří se jako tvůrci kanálu průběžně střídají. Autoři jsou z různých věkových kategorií a z různých pohanských tradic. Pagan Perspektive tak opravdu nabízí pohled na určitou problematiku z několika velmi rozdílných pohanských úhlů. Dotazy v angličtině lze posílat do schránky na jejich kanálu, na jejich facebook a další místa.
Škála jejich odpovědí zahrnuje leccos od probrání náplně Knihy Stínů a práce s elementárními bytostmi přes řešení otázky nesmrtelnosti po videa o Thelemě či Věku Vodnáře. Videa mají různou technickou kvalitu, informačně jsou ale téměř všechna velmi zajímavá.
Existují i další kanály, na kterých spolupracuje více pohanů a čarodějů, např. Wisteria Witchces, Witchesofthemoon nebo PaganPonders101.
Video Karma: ***
(na obrázku z YouTube je Dancing Rabbit)
5. DragonFeather369: The Wiccan Maiden
Mladá Vodnářka a eklektická wiccanka Azure DragonFeather tvoří svá videa od začátku roku 2012. Žije se svojí kočkou Kishou a s rodiči a její počáteční videa se vyznačovala žlutým pozadím stěny v její koupelně. Sama uvádí, že se stále má hodně co učit a co se naučí, to se snaží předat skrze YouTube svým divákům. Pracuje s elementem vody a její totemové zvíře je velryba, z kamenů má v oblibě tygří oko.
Kromě čarodějnických videí točí také krátké vtipné vlogy ze svého života, hudební díly, ve kterých zpívá vlastní písně a hraje na ukulele a další nástroje. Za zmínku rozhodně stojí pár jejích dílů s kamarádkou Hannah, která je křesťanka, kde tak trochu bojují proti (mezi)náboženským předsudkům.
Obsah videí pochází především z její samostatné praxe, můžeme se u ní také setkat s několika recenzemi na čarodějnické knihy (např. Silver Raven Wolf), s postupy pro výrobu rituálních pomůcek, s věšteckými pomůckami a s množstvím otázkových vlogů a nakupovacích vlogů. Její projev je sympatický, zodpovědný a dává smysl. Kromě vlogů tvoří ještě blog na weebly.com a můžete se s ní spojit též přes facebook.
Video Karma: *****
(obrázek z YouTube, záhlaví kanálu DragonFeather)
6. Pagyptsian: The Spiralled Path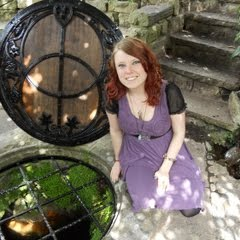 Studentka egyptologie a archeologie Pagyptsian ze skupiny eklektických pohanských čarodějnic Circle Sycamore Star točí od roku 2008. Je kněžkou řádu Fellowship of Isis, pracuje především s Velkou Bohyní, Nut, Afrodíté a s Usirem.
Ve videích mluví o různých pohanských tématech, jako příklad uvedu využití magických solí. Především u ní ale můžeme najít díly o práci s Bohyní a s egyptským panteonem, cizí jí není ani eklektická forma Wiccy. Občas nahrává videa ze svých výletů za prastarými pohanskými krásami Velké Británie. Je velmi kreativní, takže se můžete seznámit s jejími soškami bohyní nebo s tzv. Moodboards, což jsou koláže, které připravovala vloni k jednotlivým sabatům Kola roku.
Kromě vlastních videí přidává do svého kanálu poměrně velké množství pohanské hudby. Také u ní můžete najít záznamy z miniseriálu Teenswille: Teen Witches, což je dokument BBC, ve kterém vystupovala. Z této čarodějnické vlogerky sálá spokojená a příjemná energie a přináší divákům současně množství zajímavých informací, rad a tipů i podnětů zamyšlení. V odkazech jejího kanálu naleznete její blog, blog její čarodějnické skupiny, stránky chrámu Nut a další.
Video Karma: *****
(obrázek z YouTube, záhlaví kanálu Pagyptsian)
7. Samis Spirit (WitchcontheRocks)
Dlouhovlasá blond žena, jejíž život nebyl a není zrovna lehký, nahrává na YouTube videa zaměřená především na práci s polodrahokamy a s ženskými mystérii. Překleňte několik jejích stížností na začátku každého videa a nevyčítejte jí, že popíjí CocaColu a jí nezdravě, na to je opravdu háklivá. Stejně tak na svůj hlas, který často označuje jako "žabí", ale nebojte, Sami mluví srozumitelně, alespoň co se týče teorie související s čarodějnictvím.
Její ženská videa se zabývají jak stínovou prací, tak prací s vlastním klínem, jeden z jejích starších dílů se např. jmenoval Vaše vagína! Co se týče polodrahokamů, jsou její videa komplexním průvodcem po světě kamenů a krystalů, dozvíte se z nich, jak si správně vyrobit kamenný elixír, které kameny jsou jedovaté a které obsahují látky nevhodné pro použití kamenů během koupele, jak navázat kontakt s energií kamene a podobně.
Její původní kanál WitchontheRocks pravděpodobně zrušila poté, co byl společně s jejím internetovým obchodem údajně napaden hackerem. Některá videa tak mohou být ztracená, ale v současném kanálu Samis Spirit najdete nově mnohé inspirující díly o práci na sobě i o práci s polodrahokamy.
Video Karma: ***
(obrázek z YouTube, záhlaví Samiina kanálu)
8. The Four Queens
Angličanka Kelly-Ann Maddox je rychle mluvící pohanskou čarodějnicí, která se zabývá především tarotem a různými psychologickými a duchovními tématy na poměrně zajímavé a informačně silné úrovni. Udržet s ní krok není vždy jednoduché, její videa jsou celkem dlouhá a často se v nich takřka nenadechne, ale pro trochu zdatnější angličtináře může být její kanál velmi velkým informačním přínosem.
O sobě a svém životě toho až tak moc neprozradí, pro prohloubení informací o jejích tématech se však můžete podívat na její blog a nebo také zkuste zabrousit do jejího internetového obchodu.
Její nejstarší video v kanálu The Four Queens pochází z října 2012, od té doby natočila a uveřejnila kolem 150 videí, v nichž se můžete setkat s knižními recenzemi a také s obsáhlým a podrobným kurzem pro tarotové začátečníky. Její videa o tom, jak spokojeně žít, jsou velmi přínosná, trefná a uklidňující. Proto ji určitě nepřehlédněte, zcela jistě vám pomůže alespoň s rozvojem poslechu v angličtině.
Video Karma: ****
(obrázek z jednoho z videí The Four Queens na YouTube)
9. Joey Morris
Joey je tichá, klidná a nevýrazná vlogerka. Ovšem! Její videa jsou naplněná osobní cestou, milionem tvůrčích činností a především uctíváním bohyně Morrigan.
Vymyslela vlastní sadu magických koulí (orbů) pro různé použití a různé sabaty, stejně tak používá kombinace bylin, kamínků a barev v několika setech zaměřených na mnohé životní oblasti nebo také na mnohá totemová zvířata. Můžete tak u ní najít recept na výrobu svíčky, sáčku, incese a dalších pomůcek pro práci s králíkem nebo zajícem, stejně tak jako pro práci se želvou a několika dalšími zvířaty. Jejím vlastním totemovým zvířetem je japonská liška kitsune. Svoje produkty pečlivě označuje pod každým videem jako osobní duchovní majetek, ale lze si je pořídit v jejím obchůdku, na který odkazuje v záhlaví kanálu.
Kromě sad pro různá použití pracuje Joey výrazně s keltskou bohyní Morrigan a jejími třemi aspekty. Také se zabývá runami a procítěním jednotlivých znaků runové abecedy. Její projev je klidný, takže není těžké ji poslouchat, i pokud nejste příliš zdatní v angličtině.
Video Karma: ***
(obrázek z YouTube, z jednoho z videí Joey)
444 komentářů k "Zahraniční vlogeři 1."